Welcome
Jelenia Góra is not only the city with 900 years old history and tradition, many monuments and tourist attractions, first of all it's a perfect starting point for walking around  nearest neighborhood and hiking in the mountains.
The Jelenia Góra valley is one of the most interesting and the oldest cultural landscape of Europe. In nearby towns scattered among the hills and ponds you will encounter defensive churches, penitential crosses, old cabins, medieval fortresses and palaces surrounded by romantic parks. Most of the tourist routes goes through the Karkonosze National Park, Rudawski Landscape Park and Bóbr Valley Landscape Park.
By the tourist trails there are many mountain shelters where a weary tourists can rest while experiencing the history of the region. Jelenia Góra is a perfect  place to start a trip to surrounding mountain ranges: Karkonosze, Rudawy Janowickie, Kaczawskie Mountain and Izerskie Mountain. In the city there is an convenient public transport to nearby towns (You can easily get to the nearest towns by public transport). 
Jelenia Góra Tourist Information
Opening hours:
Monday - Saturday: 8:00 – 16:00
Sunday: 10:00 - 15:00
58-500 Jelenia Góra, Plac Ratuszowy 6/7
tel.  601 507 885
e-mail: it@jeleniagora.pl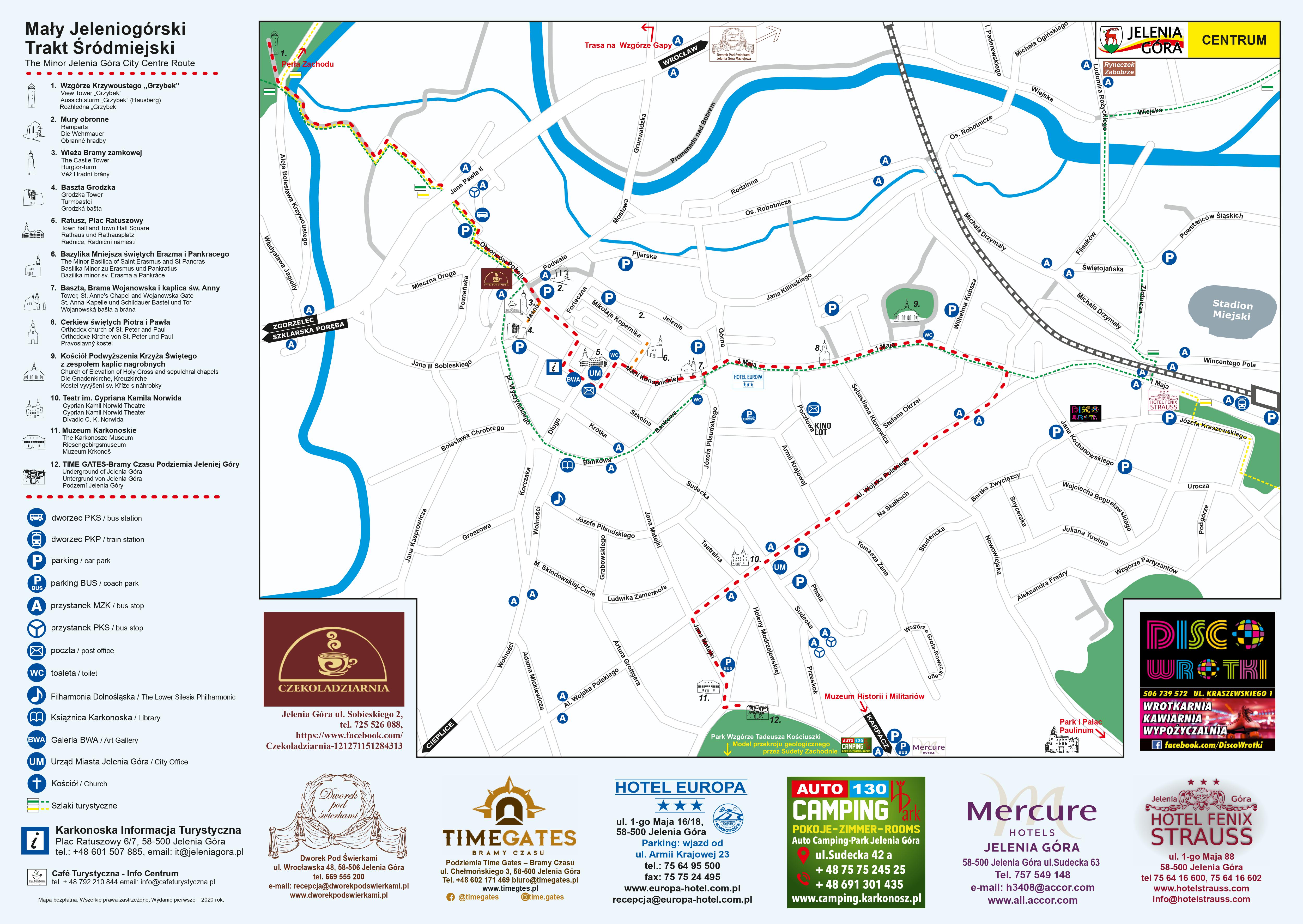 Jelenia Góra - Cieplice Tourist Information
Opening hours:
Monday - Saturday: 8:00 – 16:00
Sunday: 10:00 - 15:00
58-560 Jelenia Góra, Plac Piastowski 36
tel.  661 566 226
e-mail: itcieplice@jeleniagora.pl